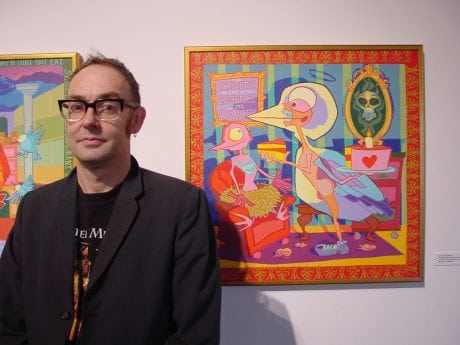 STEPHEN HOLMAN is an Anglo-American artist who incorporates PAINTING, STOP-MOTION ANIMATION and PERFORMANCE ART into his work.
Holman has exhibited his paintings and staged his LIVE PERFORMANCES throughout the world. His four-decade career has included working on Pee Wee's Playhouse, directing and co-founding era-defining '80s LA performance troupe THEATRE CARNIVALE, and creating animation series for Nickelodeon (LIFE WITH LOOPY), Warner Bros (PHANTOM INVESTIGATORS) and Disney (THE BITE-SIZED ADVENTURES OF SAM SANDWICH).
His work has been called "a wildly inventive treat" by the LA TIMES and "performance art at its finest, with the guts to go beyond the boundaries" by the LA WEEKLY.
ANIMATION
Stephen Holman was one of the artist/designers picked to work on CBS" legendary PEE WEE'S PLAYHOUSE tv series in the late 1980s and MTV"s LIQUID TV in the early 1990s. Inspired by these experiences, Holman created his own animation art company, (W)HOLESOME PRODUCTS INC, in 1993. He and his wife and partner Josephine T. Huang, have since gone on to create, direct, design and produce several innovative, stop-motion animation and mixed media children"s TV series for US television…including LIFE WITH LOOPY for Nickelodeon's Kablam! series and PHANTOM INVESTIGATORS for Warner Bros.
PERFORMANCE ART
Much of Holman's work in the 1980s, 1990s and early 2000s took the form of highly surreal, colorful and energetic PERFORMANCE ART shows staged in clubs and art venues across the US, Japan and the UK.
Holman formed his first performance art ensemble, TORTURE CHORUS in NYC in 1985, and became an active part of the now-legendary Lower East Side art scene, staging live shows in seminal venues such as 8BC, The Kitchen, Danceteria and Franklin Furnace.
In 1987 he moved to Los Angeles where he co-founded THEATRE CARNIVALE, a neo-vaudevillian performance troupe/venue which showcased cutting-edge performance artists such as Johanna Went, John Fleck and the Kipper Kids alongside exotic entertainment such as sword-swallowing strippers and professional magicians. Holman and Theatre Carnivale garnered rave press reviews (Performance Art at it's finest, with the guts to go beyound the boundaries" – LA WEEKLY), ruffled the feathers of the cultural elite ("Avant Garbage reeking with cheap jokes, sex and violence!" – LA Reader) and succeeded in defining a new genre of 1980s west coast performance art.
By the early 1990s Theatre Carnivale had evolved into a vehicle for Holman's own performance work: a wild blend of visual comedy and eco-science involving ensemble casts, live musicians and surreal costumes and props. Throughout the 90s he received grants and staged productions in major venues across the US, the UK and Japan (including NYC's Kitchen, the UK's Channel 4 TV and Tokyo's International Theater Festival), also collaborating extensively with artists Johanna Went, Clam Lynch, Brian Routh and Tom Murrin in a side project entitled Bigg Mess.