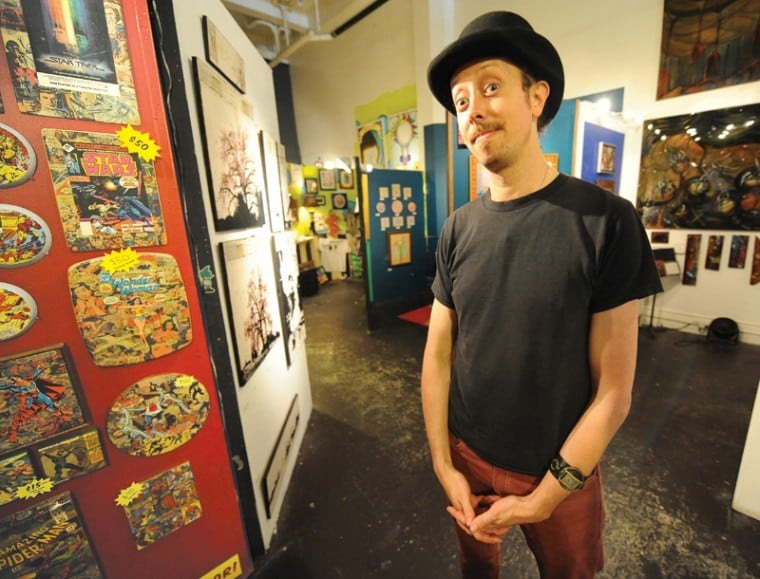 Posted: Tuesday, September 4, 2012 6:00 am | Updated: 9:34 am, Wed Sep 5, 2012.
by Richard Guzmán | 0 comments
DOWNTOWN LOS ANGELES – Culture aficionados have many choices when it comes to checking out art in Downtown. However, they are not all obvious.
The first thing most people think of is MOCA, which boasts a rich collection of American and international contemporary art. There's also MOCA's Geffen Contemporary in Little Tokyo, the adjacent Japanese American National Museum, and smaller institutions such as the Chinese American Museum near El Pueblo and, in Exposition Park, the California African-American Museum. In the future there will also be The Broad on Grand Avenue, which will exhibit billionaire Eli Broad's 2,000-piece art collection.
Downtown Los Angeles also has plenty of galleries, and though many people only visit on Art Walk night, a number of them are open at other times, as they seek to sell works and nurture new collectors. Below is a small sample of some of the places that local art watchers praise for consistently having high-quality work. The artists they represent work in different mediums, from painting to sculpture to photography to graffiti. Check the websites or call for opening hours.
Crewest: The Old Bank District gallery focuses on "street art" deemed too edgy or unconventional for most venues. The gallery was founded in 2002 by an artist whose nom du graffiti is Man One; his work has been exhibited at MOCA and the Parco Museum in Tokyo. Up now is the show BBOYS to BMEN, featuring graffiti work of artists known as Hex and Skill; it runs through Sept. 30. Other artists represented by Crewest include painter George Yepes, whose pieces range from religious images to erotica, and Gregg Stone, whose mixed media paintings tend to focus on the Latino community.
At 110 Winston St., (213) 627-8272 or crewest.com. 
The Hive Gallery and Studios: Founded in 2005, the Historic Core spot run by Nathan Cartwright showcases at least five artists a month, with group exhibits, live painting, performances and even film screenings. The works at Hive lean towards pop surrealism. Up through Sept. 29 are shows for painters Erik Saidor and Godfrey Mawea and The Dirty Desert, a group of artists from Arizona. Hive has an affordable component too, with items selling for as little as $10. The space includes studios for about 20 resident artists and a store.
At 729 S. Spring St., (213) 955-9051 or hivegallery.com.
The Phil Stern Gallery: Photographer Phil Stern has shot a who's who of historic Hollywood, from a young James Dean to John Wayne to Steven Spielberg. The 92-year old's Los Angeles Street gallery displays memorable shots as well as rare images. The venue also showcases photographs from other photographers, though the current show is all Stern. Titled Marilyn, it marks the 50th anniversary of Marilyn Monroe's death. The collection of Stern photographs includes a never before exhibited image of a purportedly pregnant Monroe snapped in 1955. Stern claims to have shot it from Samuel Goldwyn's office window.
At 601 S. Los Angeles St., (213) 488-0138 or philsterngallery.com. 
REDCAT Gallery: The Bunker Hill venue is famous for the daring and experimental acts that appear on its stage. But REDCAT also has a gallery that's open Tuesday through Sunday. The space usually emphasizes artists from Asia, Mexico, Central and South America, and the shows are often a creative type's first major exhibition in the U.S. However, this being REDCAT, the rules are loose. That is the case with the next exhibit, a video installation by Rhode Island-based artist Tony Cokes, which runs Sept. 16-Nov. 11. It will be a survey of the past 15 years of his work, with pieces touching on how race, gender and class are perceived through images and sounds.
At 631 W. Second St., (213) 237-2800 or redcat.org.
M.B. Abram Gallery: Talk about mixing it up. At the Seventh Street space run by M.B. Abram, an art dealer who sold pieces from a suite in the Collection Building on Seventh Street before opening the gallery in 2011, aboriginal boomerangs, tribal masks, African figurines and other forms of tribal art are next to more contemporary paintings and industrial pieces. Up now is Big, which includes a 10-foot-tall New Guinea ceremonial figure, a West African drum and a Brazilian blowgun; it runs through the end of September. Past pieces on display have included Inuit grass socks, African bracelets and paintings of Blake Griffin dunking over L.A. and Derrick Rose of the Chicago Bulls. Told you they mix it up.
At 525 W. Seventh St., (310) 738-5235 or mbabramgalleries.com. 
drkrm: Specializing in exhibits described on the gallery website as "under-the-radar, counterculture presentations," drkrm was opened in 2005 by art printer John Matkowsky. The Spring Street space specializes in documentary and photojournalistic work and current and historic images. Up now is Remembering Marilyn, which also pays tribute to the late sex symbol/movie star. Ed Feingersh's photographs were taken in 1955 when he was hired to shadow the actress in New York. The documentary style shots reveal Monroe doing everyday things such as reading a book on a couch or smiling during a private conversation. It runs through Oct. 4.
At 727 S. Spring St., (213) 612-0276 or drkrm.com. 
Contact Richard Guzmán at [email protected]. 
© Los Angeles Downtown News 2012
http://www.ladowntownnews.com/arts_and_entertainment/a-glimpse-at-downtown-s-galleries/article_989a2c66-f395-11e1-821b-001a4bcf887a.html